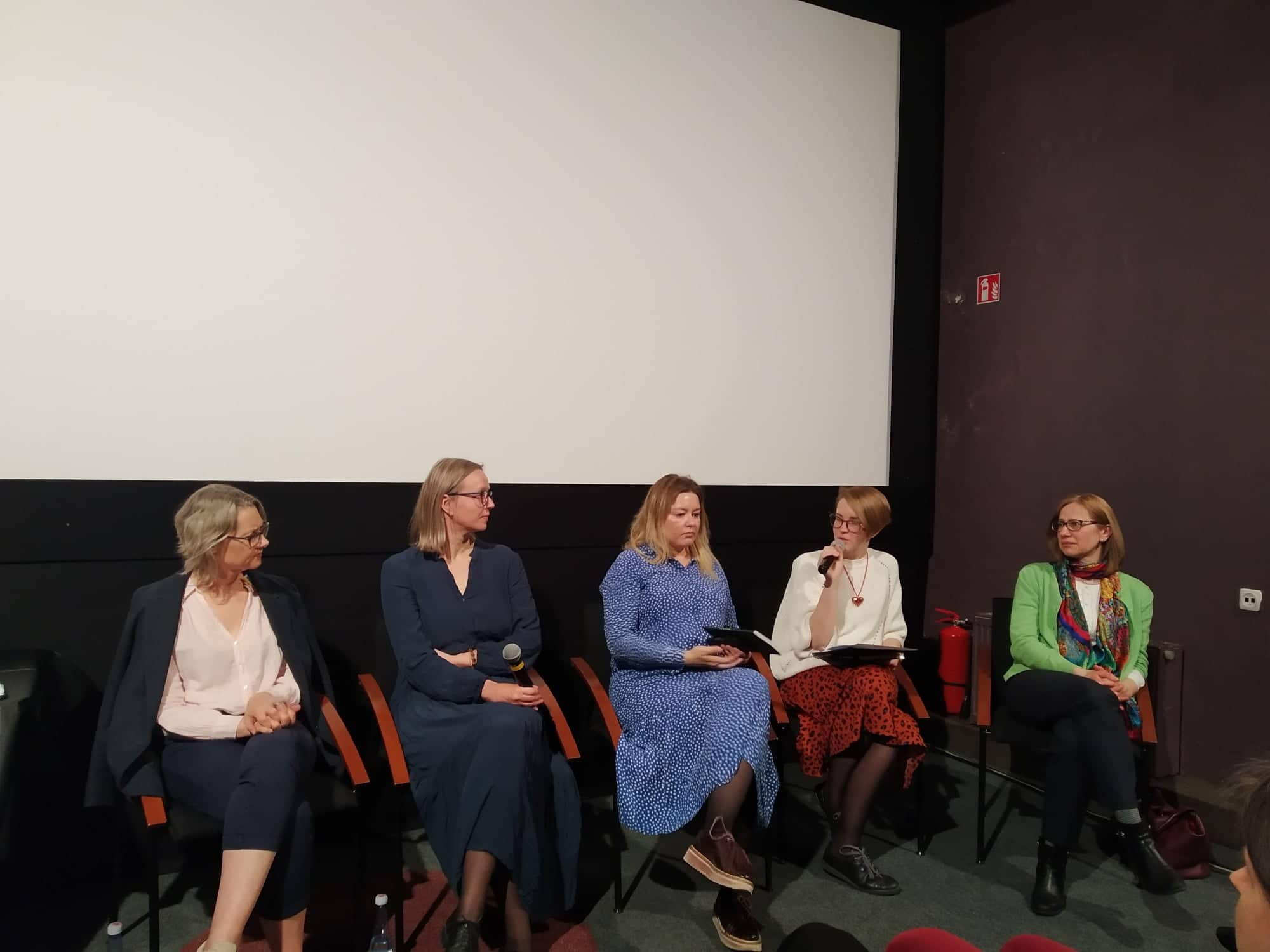 On May 19, 2022, the event 'Myths of Motherhood: Other (Adoptive) Mothers' took place at the cinema "Pasaka". During the event, Giedrė Beinoriūtė's film "Kvėpavimas į marmurą" (Breathing into Marble) was screened followed by a discussion. The film tells a story of a middle-class family that is profoundly changed by the adoption of a shy 6-year-old boy. This is an adaptation of Laura Sintija Černiauskaitė's eponymous novel.
Participants of the discussion were Giedrė Beinoriūtė, the director of the film "Kvėpavimas į marmurą" (Breathing into Marble), Lina Buividavičiūtė – a poet and literary critic, Lijana Gvaldaitė – Associate Professor in Social Work (Vilnius University) with a deep academic interest in adoption and child welfare, and Eglė Kačkutė – researcher in motherhood, literature and culture (Vilnius University). The discussion was moderated by researcher and literary critic Dovilė Kuzminskaitė (Vilnius University).
Lina Buividavičiūtė opened the discussion by reading two of her poems about the challenges and traumas of motherhood. Eglė Kačkutė pointed out several myths and prevailing cultural representations of motherhood, including the myth of a good mother, the maternal instinct and the motherhood being a source of happiness and fulfilment. Lijana Gvaldaitė spoke about the reality of adoption in Lithuania, existing myths and taboos related to this topic, and the challenges of adoptive parents.Giedrė Beinoriūtė talked about the differences between the novel and the film – as well as about her desire to explore lives of children who parented by unhappy, unfulfilled parents.
This event was jointly planned by Eglė Kačkutė and Professor Muirean Maguire (University of Exeter) as one of the key events in the new research network in Slavic and East European Maternal Studies (SEEMS). It was introduced by Eglė Kačkutė with Muirean Maguire in attendance as PI on the research project "Salt Babies: Expressing Maternity in Slavic and East European Literature and Culture", which is funded by the UK's Arts and Humanities Research Council (AHRC). The event was funded by AHRC Networking Grant "Salt Babies: Narrating Maternity in East European and Comparative Literature" (the University of Exeter, 2021-22) and the European Union's Horizon 2020 research and innovation programme under grant agreement no. 952366.